The Herritage family of Eastern North Carolina

William Herritage (Heritage) was a distinguished lawyer, landowner, and politician in colonial North Carolina. It is upon the lands of William Herritage, called Atkins Bank, that Kingston was established. [1] "Herritage consented to have 100 acres of his land laid off for a town and to devote 50 acres to a town common."

[2]

The town became Kinston following the Revolutionary War. William Herritage held various positions within the governing bodies of Colonial North Carolina. In February 1739, William Herritage was appointed Clerk of the North Carolina Lower House of the Assembly.

[3]

He served in that capacity until 1769. According to Jack Greene, "The two most important officers in the house were the speaker and the clerk.

[4]

Richard Caswell Jr. served as Speaker of the Lower House in the North Carolina Royal Colony from 1770-1771. Colonel Thomas Lovick represented Carteret County North Carolina as a member of the Lower House during the tenure of William Herritage. John H. Wheeler sites Herritage as the attorney under whom Richard Caswell studied law, preparing Caswell for his own legal and political career.

[7]

William's daughter Anna was the second wife of George Phenny Lovick. His first wife was Ann, last name unknown. Anna's brother, Heneage, married George Phenny Lovick's half-sister Elizabeth, the daughter of George's father and stepmother. Anna Herritage's sister Sarah married Richard Caswell. Lovick - Herritage- Caswell Marriages The intermarriages between the Lovick, Herritage (Herritage), and Caswell families can be a little tricky to figure out. Perhaps the following visual can help.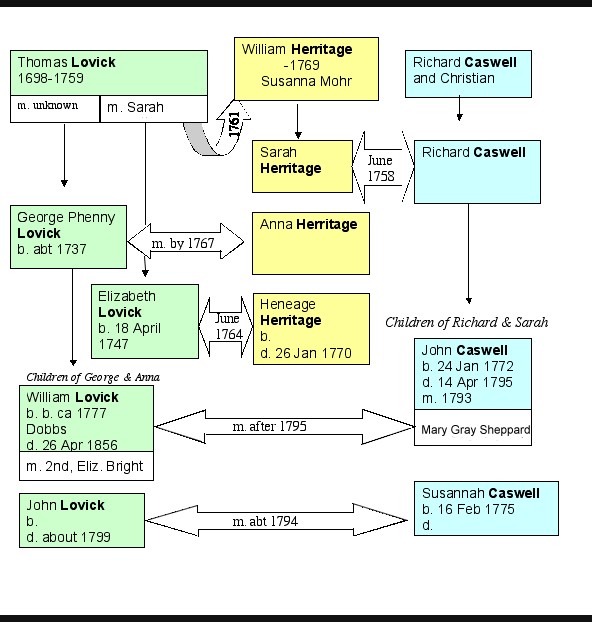 FIRST GENERATION

1. William Herritage.

William died in 1769 in North Carolina.

William's first wife was Susannah Moore (Mohr/Moor); His will names Adam Moore as the "grandfather to my Son Heneage".[8] Herritage's will identifies his children as Heneage; John; William Martin; Susanna; Elizabeth; Anna, now wife of George Lovick Esq.; Sarah, now wife of Richard Caswell.[9] Susannah died bef 1769.

They had the following children:

2 i. Heneage (1738-1770)

3 ii. Sarah (1741-1789)

4 iii. Susannah

5 iv. Anna (1742-1784)

William second married Susannah Franck, daughter of John Martin Franck, Children of Herritage and Franck:

6 v. John

7 vi. William Martin

8 vii. Elizabeth

William married third, Sarah (Godet) Lovick, the widow of Thomas Lovick. Upon her marriage to William, Sarah became Heneage's stepmother in addition to already being his mother-in-law. Other relationships took on new roles as well, since her stepson George Lovick was married to William's daughter, Anna Herritage. Sarah (Godet) Herritage predeceased her husband, William.

SECOND GENERATION

2. Heneage Herritage. Born abt 1738 in North Carolina. Heneage died in North Carolina in 1770.

Heneage married Elizabeth Lovick, daughter of Thomas Lovick and Sarah (Godet) Lovick on 27 Jun 1764. He died 26 January 1770 and his widow, Elizabeth, married Isaac Partridge.

Heneage and Elizabeth had the following children:

i. William Herritage born in Craven County on 19 October 1767, died 19 March 1786.

ii. John Benners Herritage born 7 July 1769. m. Elizabeth Green on 10 August 1793.[10]

She died on 12 January 1796. The 1799 Craven Census shows him alone with 3 slaves.

3. Sarah Herritage. Born in 1741 in NC. Sarah died in Kinston, Lenoir, NC in 1789. Sarah married Gov. Richard Caswell, son of Richard Caswell & Christian Dallam, on 20 Jun 1758.[11]

They had the following children:

i. Richard (1759-)

ii. Sarah (1762-)

iii. Winston (1764-)

iv. Anna (1766-)

v. Dallam (1769-)

vi. John (1772-) m. Mary Gray Sheppard, who later married William Lovick

vii. Susannah (1775-) m. John Lovick, her cousin

viii. Christian (1779-)

5. Anna Herritage. Born in 1742 in North Carolina. Anna died in North Carolina in 1784. Anna married George Pheney Lovick, son of Thomas Lovick & Sarah_____. Born abt 1746 in North Carolina. George Pheney died in North Carolina in 1778.

They had the following children:

17 i. George (~1762-)

18 ii. Sarah (1764-1801)

19 iii. William (~1762-1858)

20 iv. John (~1768-)

21 v. Elizabeth (1777-1858)

After Anna Lovick's death, the Governor Caswell and Sarah took in Anna's three youngest children, William, John, and Elizabeth. John Lovick married his cousin Susannah Caswell. William Lovick married the widow of his cousin, John Caswell, and served as guardian to John's child.[12]
---
[1]
Annals of Progress: The Story of Lenoir County and Kinston, North Carolina
Raleigh: State Dept. of Archives and History, 1963, p.2
[3] The Quest For Power: The Lower Houses Of Assembly In The Southern Royal Colonies 1689-1776, By Jack P. Greene The Norton Library W W Norton & Company Inc, New York Published for the Early American History and Culture At Williamsburg, Virginia 1963, p.211
[6] A Manual of North Carolina Issued by the North Carolina Historical Commission for the Use of Members of the General Assembly Session 1913: Electronic Edition. Connor, R. D. W. (Robert Digges Wimberly), ed. © This work is the property of the University of North Carolina at Chapel Hill. It may be used freely by individuals for research, teaching and personal use as long as this statement of availability is included in the text. p. 351 [Representing Carteret County in 1734, 1734-35, 1738[39]-1739, 1739[40]-1739, 1744-45,]
[7] Ancestry.com. North Carolina Historical Sketches, 1584-1851, Volume I-II [database on-line]. Provo, UT, USA: The Generations Network, Inc., 2002. Original data: Wheeler, John H. Historical Sketches of North Carolina, From 1584 to 1851. Vol. I-II. Philadelphia, PA, USA: Lippincott, Grambo and Co., 1851. Series II, p. 84
[8] Will of William Herritage 8 Mar 1769 Craven County, North Carolina Wills and Inventories: Copied From Original and Recorded Wills and Inventories in the Office of the Secretary of State. Raleigh, NC, USA: 1912, page 239.
[10] Ancestry.com. North Carolina Marriage Collection, 1741-2004 [database on-line]. Provo, UT, USA: The Generations Network, Inc., 2007. Original data: County Court Records - FHL # 0296803-0296808, County Court Records at New Bern, NC & Family Hist
[11] Caswell Bible Records
[12]
New Bern District North Carolina L

oose Estates Papers, 1775-1810.

Abstracted by Dr. Stephen E. Bradley,

Jr. Bradley Publications, 1994.

Virginia Beach, Virginia 23464.
Caswell Connections
Home