Contributed by Tina Winsett Seitz - indiangirl1174@yahoo.com My Family of Winsett lived in Dobbs County in the 1700's. I have been slowly following their trail and it has brought me to Dobbs County. Ignatius and Frances Winsettlived there sometime around 1756. Here is a little history I have found records for.

In 1740 Ignatius and Frances have their first son John.

I do know at some point Ignatius married Frances but again I have found no Marriage record for this. Some say abt. 1748 in North Carolina.

I also know on November 22, 1748 Ignatius was living in Virgina. There was a claim filed against him for taking up a runaway, there in mentioned, was presented to the house, & received. and ordered to allow the said claim in the book of claims. SOO not sure if the 1748 N.C. Marriage is correct BUT it could be.

On September 16, 1751 Ignatius and wife Frances lease land in Prince William County Virginia. This lease also mentions son John or youngest son of them. According to this lease they did not have to pay rent for the first three years. I believe they were only there for about a year because Ignatius purchased land from a Thomas Price sometime around May 1, 1752. *Edge Combe Co. N.C. Records Deeds 1732-1800*

In 1747 Son Robert Winsett was born.

In 1755 Son Joseph Winsett was born.

**NOTE - According to court records dated Jan. 10, 1839, this proves that Frances had 3 children prior to Marring Ignatius. She had Mary, Nancy and James Hackley. These court papers states they are 1/2 siblings to John, Robert and Joseph Winsett.**

October 12, 1756 Ignatius living in Edgecomb County North Carolina sells 1 acre of his land to a group of people for Good Cause and Consideration, him moving but more especially in consideration for them to erect and build a House Of Worship.

Ignatius must have sold the remaining of his land and then moved to Dobbs County North Carolina.

Sometime in 1766 Ignatius Passes away in Dobbs Co. N.C.

Wife Frances was appointed administratrix of estate July 1766, Dobbs Co. N.C. ***NOTE - Something interesting to note that I found a record in N.C. Archives Probatess or Administrations granted by the Inferior Court of Dobbs County. It reads: Frances Winsett- Jonathious Winsett- July Court 1766.** So this makes me wonder was Ignatius a Middle name, which was NOT uncommon for people to use back then??? I have not found any records other then this one with the name Jonathiuos on it. Also you must understand, you need ALOT of interpertation on records back then due to spelling, things written down wrong, people using Middle Names instead of givin name and also alot of people could not read or write.
---
Wife Frances was counted on a 1780 tax list In Dobbs Co. N.C.
This seems to be the last record for her.
I believe she passed away shortly after 1780 BUT canot prove actual date. I also came across this Land Receipt that I thought was very interesting and thought I would share.
---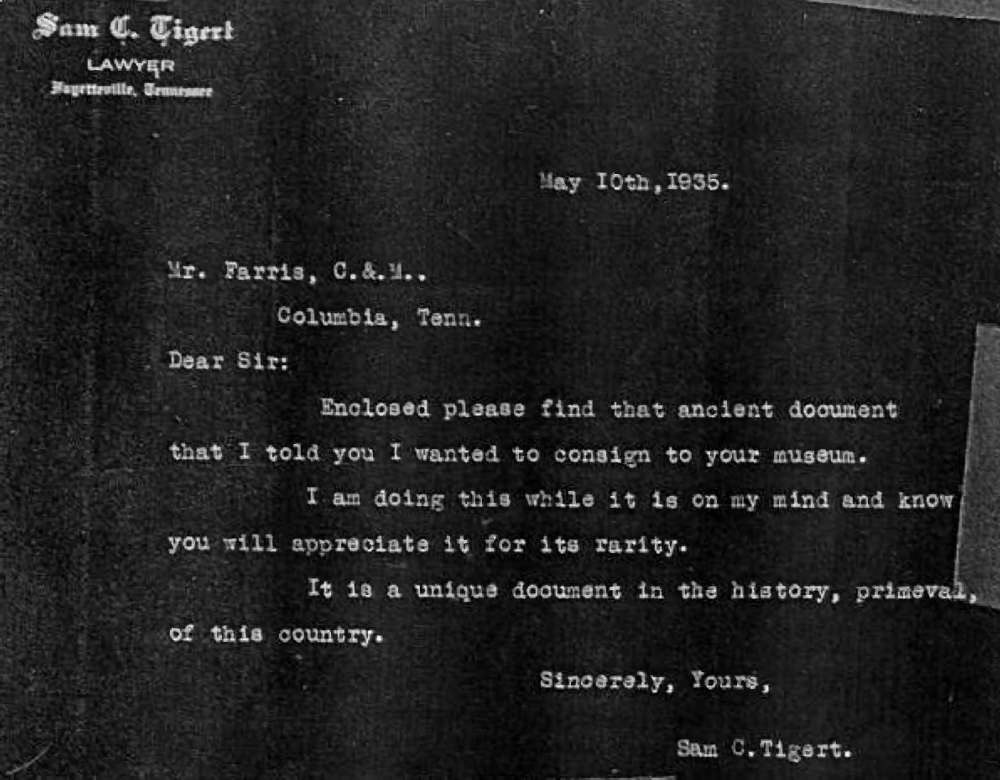 North Carolina
RECEIVED the 15th Day of Novem'r 1770 of Robert Winsett the Sum of Eighteen Shillings being for three years Quitrent due to the Crown, the 26th Day of Septem'r last past, for 150 Acres of Land, holden by sd Winsett by Deed from Jno. Filyaw patented and situated in Dobbs County, at four Shillg's &C. I say received for the Use of his Majesty, by Jam's Green. DR - £ 0 10 0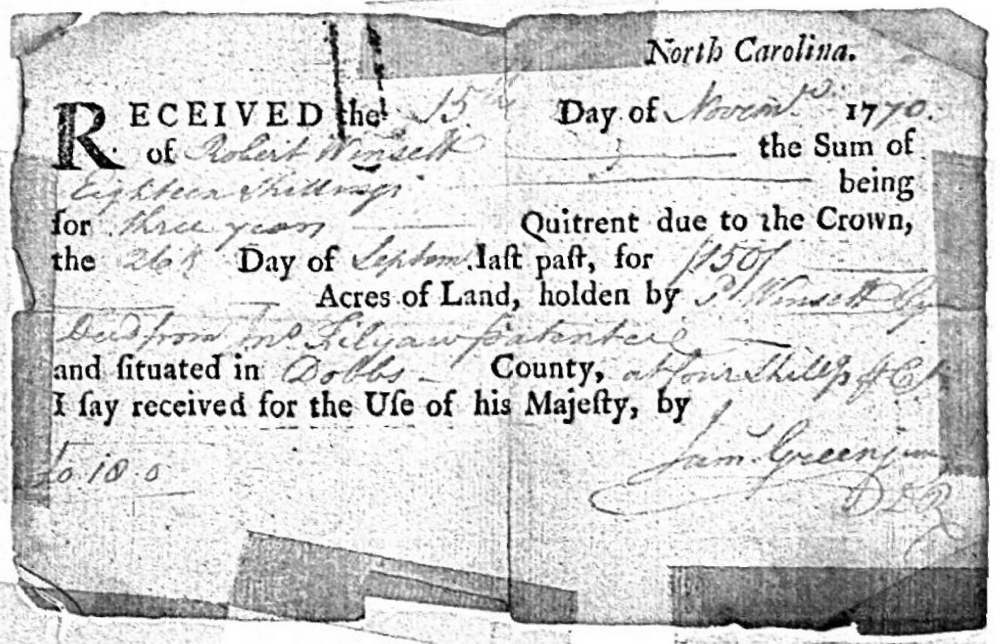 Source: Daughters of the American Revolution, Nacogdoches Chapter, Collection (B/30), Box 22, Folder 13, Winsett, Robert, Receipt for quitrent, NC, [with letter of Sam C. Tigert], 1 item, 1770, 1935.
Surname Projects M-Z